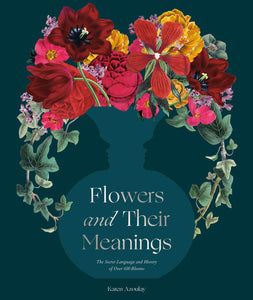 Uncover the secret meanings behind your bouquets and floral arrangements with this stunningly illustrated exploration of the Victorian language of flowers, including the multicultural history, rituals, and mythology behind over 600 flowers, herbs, and trees.
The study of floriography can be used by readers to decode hidden messages in beloved novels like The Age of Innocence or speculate as to why two canary-yellow roses--which signify jealousy and infidelity--were featured in Diana Spencer's wedding bouquet. You might share some honeysuckle (meaning "bonds of love") with a friend or partner as a gesture of commitment. Or perhaps you'll choose a celebratory bouquet of angelica ("inspiration") and purple columbine ("resolved to win") for a friend who has triumphed over something difficult.
Karen Azoulay pairs nineteenth century botanical drawings with electric photography, creating a one-of-a-kind flower dictionary with a contemporary, artful feel. With a foreword by Kate Bolick and a helpful sentiment-based index, Flowers and Their Meanings is both a beautiful volume and a practical guide to incorporating the language of flowers into your own life.