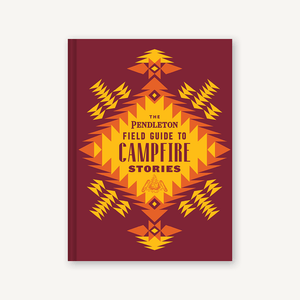 From beloved American heritage brand Pendleton comes this collection of family-friendly tales of adventure and discovery in the wilderness.
This captivating collection of campfire stories is the perfect companion for anyone who enjoys the outdoors. These pages present a range of tales, including daring feats of endurance and strength, epic journeys through new frontiers, and exhilarating encounters with wild animals, plus spooky myths to bring campers closer together around the fire.
Readers will discover works by beloved naturalists John Muir and Henry David Thoreau, modern tales of adventure from Alex Honnold and Cheryl Strayed, and accounts of bravery and heroism from the adventures of Shackleton and the Donner party. With a combination of awe-inspiring stories and Pendleton's beloved patterns and engaging illustrations throughout, this handsome campfire collection is the ideal addition to any adventure and a wonderful gift for families and friends who love camping.